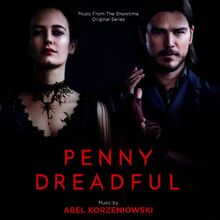 Penny Dreadful Soundtrack is the music score from the Showtime original series composed and performed by film scorer Abel Korzeniowski.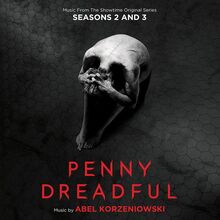 Description
Edit
"The musical themes of Penny Dreadful represent both different characters and abstract ideas," says Krakow-born film scorer Abel Korzeniowski of his music for Showtime's Victorian-gothic series. The student of renowned Polish composer Krzysztof Penderecki previously netted two Golden Globe nods (W.E., A Single Man), three top World Soundtrack Awards (Romeo & Juliet), and acclaim for the unsettling aura of guerilla production Escape from Tomorrow. For Penny Dreadful, "I started looking for an expression of dark beauty," Abel explains. "Something that can be terrifying and mesmerizing at the same time—a poisonous infatuation." He sees Victor Frankenstein's offspring as "paragons of the modern age, or as the Creature puts it, "modernity personified." Their music sounds more like an alternative/indie rock ballad than a classical score. The black-clad Creature, with his heavy makeup and pale skin, even looks like he could be in a band with Jack White."
Season 1 Soundtrack list
Edit
Season 2 Soundtrack list
Edit
Season 3 Soundtrack list
Edit
Community content is available under
CC-BY-SA
unless otherwise noted.